Refinish & Repair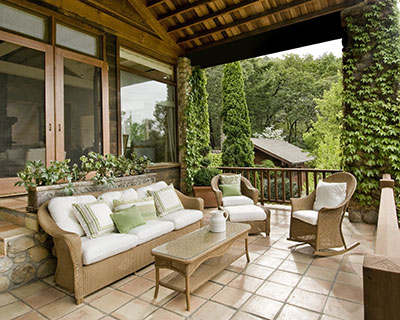 Patio furniture is exposed to a lot of heat, moisture, cold, and dust. These factors can damage and cause problems to even the most resilient outdoor pieces. Fortunately, you don't need to repurchase your outdoor furniture every time it's damaged because it can be refinished and repaired. At So Cal Patio Master, we hope to spare our customers the unnecessary expense of replacing furniture, by providing expert patio furniture repair services.

We're a well-established business in Southern California and have several clients that are pleased with our services. Our experts will methodically refinish and repair your patio furniture and make sure it looks great and functions well.
Our Refinish and Repair Process
Refinishing and repairs should be done properly to gain lasting results. Some companies take shortcuts or use poor quality tools and materials to repair furniture. That can be a waste of money and time. Here's a step-by-step description of our process:
Assessment and Quote - Our first step is to assess the furniture and offer an accurate quote so you can decide whether you want to repair the furniture or purchase new one.


Sandblasting - The only way to really assess the amount of damage in metal outdoor furniture is to remove the layer of paint and rust coating and look at the base metal. We strip the metal with sandblasting and remove all the paint, dirt, rust, and to uncover the smooth, even metal underneath.


Inspecting the Metal - Once the metal is stripped bare, we inspect it carefully for damage in structural integrity, cracks, rust, and other such problems. We usually fix any bends and cracks we find; but if the damage is irreparable, our experts will let you know immediately.


Powder Coating - Once the base metal is completely sound and clear of rust, we apply powder-coat paint on the metal though an electrostatic process. The paint is then cured at about 400° temperatures to ensure it bonds with the metal. This ensures the furniture is very resilient and will easily withstand outdoor temperatures. Sandblasting and powder coating work together to ensure the refinished furniture would last for a very long time.


Strap and Sling - Strap or sling furniture is usually easy to repair, especially if the supporting structure is sound and strong. We'll use high quality patio furniture strapping straps or slings to ensure it withstands the weather and looks good for years to come. Our expert installers are very skilled and experienced and know the process like the back of their hand. They'll make sure the furniture will be sturdy and the strap or sling will be properly installed.
We can handle all kinds of repairs and refinishes and will make sure your patio furniture looks as good as new. You won't have to worry about replacing it for a very long time.
We're always willing to answer any questions you might have about our patio furniture repair services here at So Cal Patio Master. You can contact us through our web form or give us a call on 1 818 2334946.
We Provide Services to the Following Cities and Towns in CA: