Patio Furniture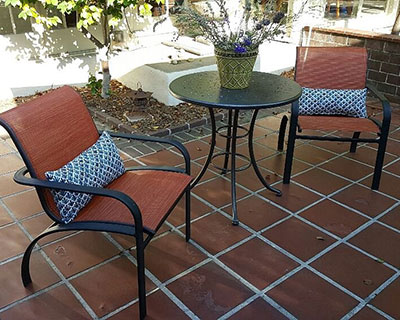 There is no doubt that patios add to the charm of your home. A patio offers a sense of openness and expanse to the indoor areas and also gives you more living space. Many people like to construct pergolas above the patios while some prefer to get an outdoor kitchen installed. Regardless of the kind of setting and look you want to create there, you would need some good patio furniture to make the space more functional and aesthetically appealing.
So Cal Patio Master caters to customers in and around Los Angeles, Santa Barbara, Palm Springs, and Thousand Oaks. The company has also built a very strong customer base across Oxnard, Montecito, Encino, Newbury Park, Pasadena as well as La Crescenta. Here is some information that will help you make the right choice of outdoor furniture:
Aspects to Consider When Buying Patio Furniture
Is the patio open to the sky or semi-enclosed?
Is there a lot of moisture in the environment?
Is your home close to the sea?
Do you have space to store the furniture in case there is bad weather?
Does your patio also have an outdoor kitchen
The size of the available space
Are you looking for light or heavier pieces?
Design and styling preferences
Do you prefer furniture made of a single material or combination materials?
Patio furniture cost
Outdoor Furniture Materials
When you start looking, you will find there are a large number of outdoor furniture materials to choose from such as:
Wood - This is a very popular choice and many homeowners still like outdoor furniture made of wood. You can choose pieces made from wood species such as teak, eucalyptus, cedar, oak, and pine etc. It's a good idea to opt for hardwoods as they are rot and weather-resistant.
Metal - Metal patio furniture can be very durable and strong. But you need to ensure its maintained well; that the paint isn't chipping or flaking as that can result in rusting.
Aluminum - This is a very light and durable material that can be power-coated in a color of your choice. It doesn't really get impacted by climatic changes.
Wicker - This is another extremely popular material that is available in natural as well as man-made materials. It's able to withstand climatic changes, requires very little maintenance and is very long-lasting too. Many people prefer to use this custom outdoor furniture and add different types of cushions to make it more comfortable too.
Custom Designed Patio Furniture
Every homeowner has specific likings and ideas when it comes to how they want their yard furniture to be. You can also choose to use pieces that are made with a combination of materials. Regardless of the base materials you opt for, ensure that you use weather-resistant fabric for the cushions and seats. This will ensure your furniture continues to look stunning for a number of years.
When you are investing in any outdoor furniture, you want to be sure that you are getting high quality products that will be able to weather climatic changes and last for a number of years. It's why you should consider the top-notch patio furniture that companies like So Cal Patio Master have been providing for a number of years.
"MORE ARTICLES"
Custom Outdoor Cushions
Patio Furniture Repairs
Outdoor Furniture
Refurbished Patio Furniture
Replacement Cushions
We Provide Services to the Following Cities and Towns in CA: