Refurbished Patio Furniture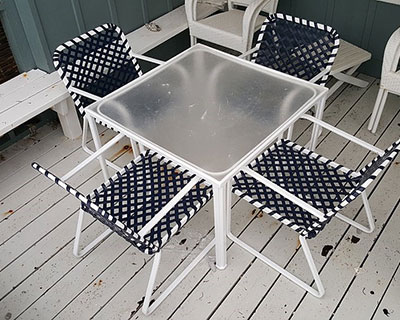 If any of your patio furniture is refurbished, your first reaction is to want to go ahead and replaced it. Furniture that looks old, faded or worn can impact the overall ambience of your home. So, it's quite natural that you would want to replace furniture that seems to be damaged. However, before you do that, you need to ask yourself whether it's really necessary. There are times when all the furniture needs are some repairs to get it back into shape.
So Cal Patio Master caters to customers in and around Los Angeles, Santa Barbara, Palm Springs, and Thousand Oaks. The company has also built a very strong customer base across Oxnard, Montecito, Encino, Newbury Park, Pasadena as well as La Crescenta. They can help you refurbishold patio furniture, and give it a new lease of life.
Benefits of Refurbishing Furniture
Today, many people choose to get their furniture refurbished and there are a number of benefits to doing so:
Refurbished Patio Furniture Cost - This is one of the simplest ways to save money. All that's required are a few repairs or a fresh coat of paint or polish to make your furniture look as good as new.
Aesthetics - When you choose to get your furniture refurbished, it lends a very attractive look to the pieces and they will last for a very long time. The company that you hire for the job will first inspect the pieces before they carry out any repairs; they will let you know whether it's possible to salvage the furniture.
Style - Some furniture looks great with a slightly worn-out look; old school designs have a rustic charm and skilled experts can help improve the appearance of this furniture without impacting its rustic appeal in any way.
Eco-Friendly - This is also an excellent way to reduce your carbon footprint and do your bit for the environment. If you choose to just get your residential furniture refurbished instead of recycling or discarding it, it reduces the impact on the environment.
Hire an Experienced Outdoor Furniture Refurbishing Company
Refurbished furniture is no good if it isn't able to withstand climatic changes. It should also be comfortable and aesthetically appealing. When you have experts handle the refurbishment work, you can rest assured that your old furniture will be good enough to use for a number of years.
They will use high-grade materials and workmanship and will ensure that the work is completed to your satisfaction. When you refurbish old furniture you will find that your patio starts looking spruced-up and elegant and you get a greater ROI on your old furniture too.
When you are investing in any outdoor furniture repairs, you want to be sure that you are getting high-quality services and that your furniture that will be able to weather climatic changes and last for a number of years. It's why you should consider the top-notch services that companies like So Cal Patio Master have been providing for a number of years.
"MORE ARTICLES"
Custom Outdoor Cushions
Patio Furniture Repairs
Outdoor Furniture
Patio Furniture
Replacement Cushions
We Provide Services to the Following Cities and Towns in CA: